---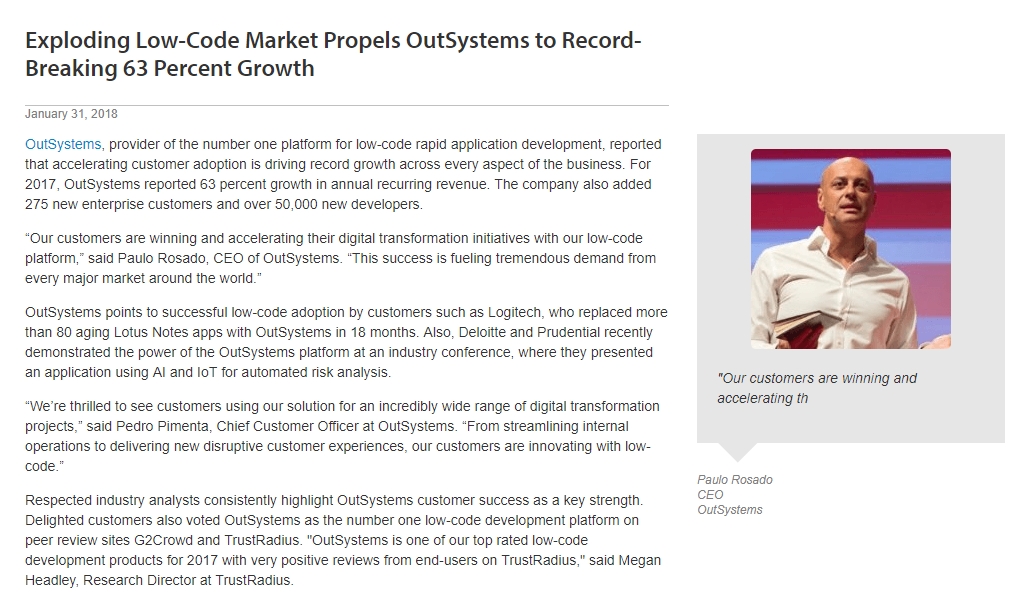 ---
OutSystems, provider of the number one platform for low-code rapid application development, reported that accelerating customer adoption is driving record growth across every aspect of the business. For 2017, OutSystems reported 63 percent growth in annual recurring revenue. The company also added 275 new enterprise customers and over 50,000 new developers.

"Our customers are winning and accelerating their digital transformation initiatives with our low-code platform," said Paulo Rosado, CEO of OutSystems. "This success is fueling tremendous demand from every major market around the world."

OutSystems points to successful low-code adoption by customers such as Logitech, who replaced more than 80 aging Lotus Notes apps with OutSystems in 18 months. Also, Deloitte and Prudential recently demonstrated the power of the OutSystems platform at an industry conference, where they presented an application using AI and IoT for automated risk analysis.

"We're thrilled to see customers using our solution for an incredibly wide range of digital transformation projects," said Pedro Pimenta, Chief Customer Officer at OutSystems. "From streamlining internal operations to delivering new disruptive customer experiences, our customers are innovating with low-code."

Respected industry analysts consistently highlight OutSystems customer success as a key strength. Delighted customers also voted OutSystems as the number one low-code development platform on peer review sites G2Crowd and TrustRadius. "OutSystems is one of our top rated low-code development products for 2017 with very positive reviews from end-users on TrustRadius," said Megan Headley, Research Director at TrustRadius.

Highlights from 2017 include:

63 percent growth in annual recurring revenue
Adding 275 new enterprise customers and 50,000 new developers
Delivering major digital transformation projects with key partners such as Deloitte, Cognizant, KPMG, Tech Mahindra, ATOS, NCS, CTC, and Persistent Systems
Leadership position in four major industry reports from Gartner and Forrester
60 product updates to its award-winning platform, from low-code innovation like visual mobile debugging to security certifications including ISO and SOC
Ready for 2018

OutSystems is preparing for even greater growth in 2018 by adding to its board and hiring more employees. Tom Schodorf, former SVP of sales and field operations at Splunk, and John Kinzer, CFO of HubSpot, recently joined as board members, and Bill Macaitis, former CRO/CMO of Slack, joined as an advisor.

In 2017, OutSystems rapidly grew to over 600 employees globally, and was named one of the Best Cloud Computing Companies and CEOs to Work for by Forbes, based on Glassdoor scores. With 55 new hires starting in January, OutSystems is entering 2018 with over 650 employees.

About OutSystems

Thousands of customers worldwide trust OutSystems, the number one low-code platform for rapid application development. Engineers with an obsessive attention to detail crafted every aspect of the OutSystems platform to help organizations build enterprise-grade apps and transform their business faster. OutSystems is the only solution that combines the power of low-code development with advanced mobile capabilities, enabling visual development of entire application portfolios that easily integrate with existing systems. Visit us at www.outsystems.com, or follow us on Twitter @OutSystemsor LinkedIn. Explore careers at OutSystems.